seen on Geoff's blog – Between the Poles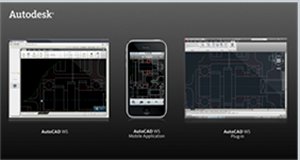 I blogged previously about Project Butterfly, an Autodesk Labs Technology Preview that allowed AutoCAD users to edit AutoCAD drawings over the web just using a web browser.
Autodesk has announced the commercial availability of AutoCAD WS. AutoCAD WS is a web application that allows you to view, edit, and share drawings (.dwg) through a web browser or a mobile device.
autocadws.com – web application and online workspace
AutoCAD WS – mobile app for Apple iPad, iPhone, and iPod touch
AutoCAD WS Plug-in – to upload and synchronize files automatically from AutoCAD
You can sign up for the web application. The mobile apps are available from the iTunes store. The Plug-ins are available for AutoCAD 2011, AutoCAD Map 3D 2011, and other AutoCAD based products at the download section of www.autocadws.com.